On finit évidemment la galerie des portraits avec ceux qui vont ouvrir le bal, une bande de gaillards du coin, le BlueSpirit Band, qui montent maintenant sur scène, clins d'œil et mines gourmandes, comme s'ils descendaient au carnotzet.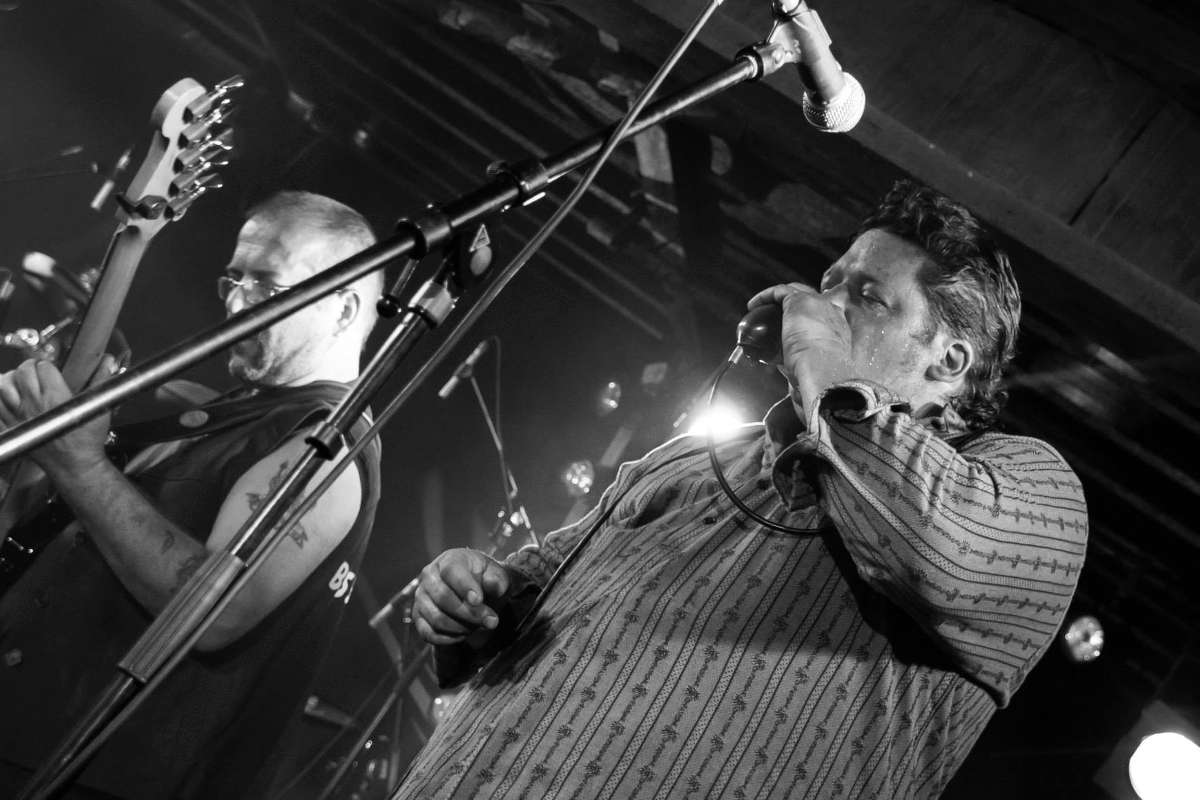 La cuisine du BlueSpirit Band ne manque certes ni de fromage ni de pommes de terre. Roborative et groovy, arrangée en solides couches indémodables – batterie, basse, orgue Hammond, guitare et harmonica assaisonnées de voix lead rugueuse et de chœurs – elle enchaîne les plus fameux saucissons du blues et de la soul (Thrill Is Gone, Midnight Hour, Key To The Highway, Baby Lee…) sans oublier d'y glisser quelques recettes personnelles. Une ouverture du Blues Rules par le plaisir simple et toujours populaire du rythm'n'blues et du blues-rock des années 60 à 80, mitonné avec fidélité et liberté.
Fidélité, car les cinq gaillards, en effet, ne lésinent pas dans le choix des produits d'origine. Leur orgue Hammond, une valeur sûre des musiques afro-américaines depuis 1935, est spatialisé et rendu vibrant par la célèbre Leslie, inventée dès 1941. Les micros, les instruments, les amplis, répondent à la même exigence dans le travail d'un son authentique.
Liberté, car comme le vrai cuistot qui dose à la main et à l'œil, le BlueSpirit Band touille sa sauce à l'oreille, sur l'inspiration du moment, dans le partage avec le public. Très peu pour eux, le réchauffage sur scène d'un produit fini empaqueté au studio. Leur choix, c'est le live, et vous. On compte sur vous, du coup : on ne cuisine bien que pour les bons mangeurs, il va falloir que vous vous manifestiez devant la scène pour que ça prenne !
Alors, vous acceptez l'invitation ? Les bouteilles sont déjà au frais, vous passez boire le coup, entre amis, au-dessus du lac, près des vignes, à l'ombre du château de Crissier ?
A découvrir en ouverture le samedi 20 mai à 18h30 sur la scène du Blues Rules Crissier Festival 2017.
► Billetterie | Facebook