J'ai eu la chance de rencontrer Kenny Brown plusieurs fois, et la première fut lors des Nuits de l'Alligator en 2006 à Paris. Après son concert nous avons discuté un peu, et il m'a dit : "si tu aimes vraiment le Blues, tu dois venir dans le Mississippi", ce fut une sorte de véritable étincelle, et le soir même j'achetais mes billets d'avion pour l'été.
Nous nous sommes vus à nouveau à Clarksdale en Juillet, puis à son Picnic en 2008 et 2010…
Kenny, ta musique et ton festival ont été et sont une véritable inspiration pour le Blues Rules, et tu nous a également ouvert de belles portes dans le Mississippi en nous présentant de fabuleux musiciens.
Merci d'avoir pris le temps de répondre à nos questions.
Quand es-tu arrivé dans la région des collines du nord du Mississippi ?
Mes parents sont originaires de cette région, mais je suis né à Selma (Alabama) alors que mon père, militaire, était en poste là-bas. Néanmoins, on pourrait dire que j'ai été conçu au Mississippi, et j'y suis retourné dès l'âge de 6 mois.
As-tu grandi dans une famille d'artistes? Quand as-tu "rencontré" le Blues ?
Ma mère jouait du piano et mon père chantait occasionnellement dans des quartets de Gospel, un de mes oncles grattait également un peu de guitare.
C'est vers l'âge de 6 ans que j'ai véritablement entendu le Blues pour la première fois, lors de Picnics qui se tenaient de l'autre côté de la route où nous habitions, puis ensuite en écoutant les stations de radio de Nashville. Puis quand j'avais 10 ans, Joe Callicott s'installa dans la maison d'à côté et commença à m'apprendre à jouer.
Quand es-tu devenu musicien à plein temps ?
J'ai commencer à jouer devant un public à 19 ans, avec R.L. Burnside, mais j'avais un travail en journée. Juste avant mes 40 ans je me suis investi d'avantage dans la musique et tout s'est enchaîné et j'ai pu en faire ma seule activité.
Comment est née l'idée de ton festival, le North Mississippi Hill Country Picnic ?
A force de voyager un peu partout dans le monde, je me suis apperçu d'un véritable engouement pour cette musique si particulière, le son du Blues des collines du nord. J'ai commencé à parler de cette idée autour de moi, puis j'ai organisé des petits concert chez moi, où de plus en plus de personnes venaient pour écouter ou jouer, ce qui m'a fait réaliser que ce n'était peut-être pas une si mauvaise idée. Puis un jour, ma femme, Sara, est venue avec tout pour l'organisation du le festival écrit sur un papier et m'a dit : "Si c'est ce que tu veux vraiment faire, fais-le." Pour ainsi dire, Sara en est vraiment l'organisatrice.
Où et quand se tiendra la prochaine édition ?
Le Picnic se déroule toujours le dernier weekend de juin, et cette année il aura lieu à Waterford, MS le long de la Highway 7, entre Holly Springs et Oxford, MS.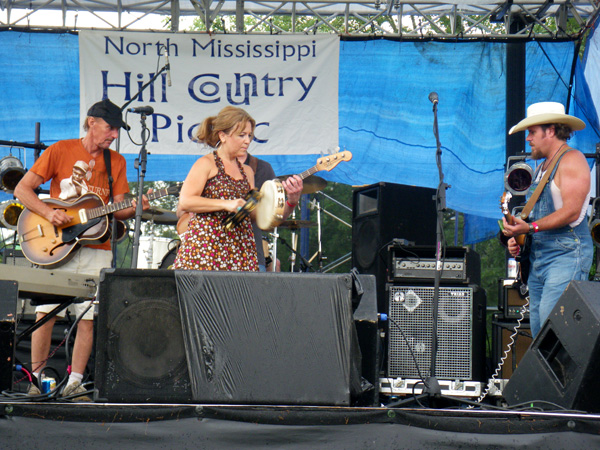 Bluesman, c'est un bon moyen de voyager ? D'ailleurs voyages-tu toujours beaucoup ?
J'aime vraiment voyager grace à la musique, mais j'ai dû ralentir.
Quelle est la différence entre les fans européens et les américains?
Les fans de Blues sont géniaux que se soit ici ou en Europe, mais j'ai l'impression que les européens apprécient cette musique un peu plus.
Votre festival est un modèle pour le Blues Rules, penses-tu qu'il soit possible d'apporter cette atmosphère du Mississippi jusqu'en Europe?
Oui, je le pense, on peut vraiment y apporter le son et l'ambiance.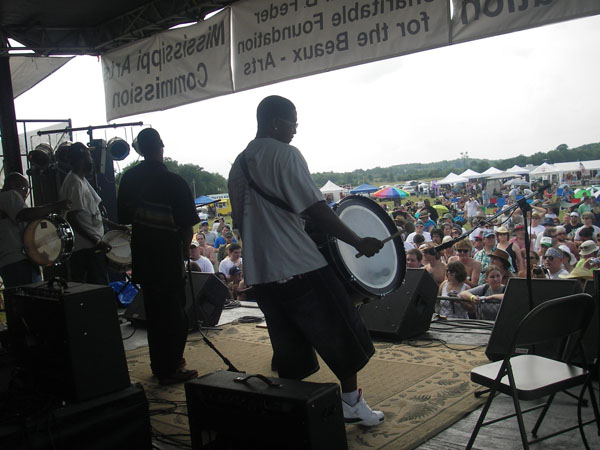 Tu es déjà venu te produire sur la scène du Blues Rules en 2011, en gardes-tu de bons souvenirs ?
On y a véritablement passé un bon moment, les gens y étaient vraiment sympathiques et la nourriture y est très bonne.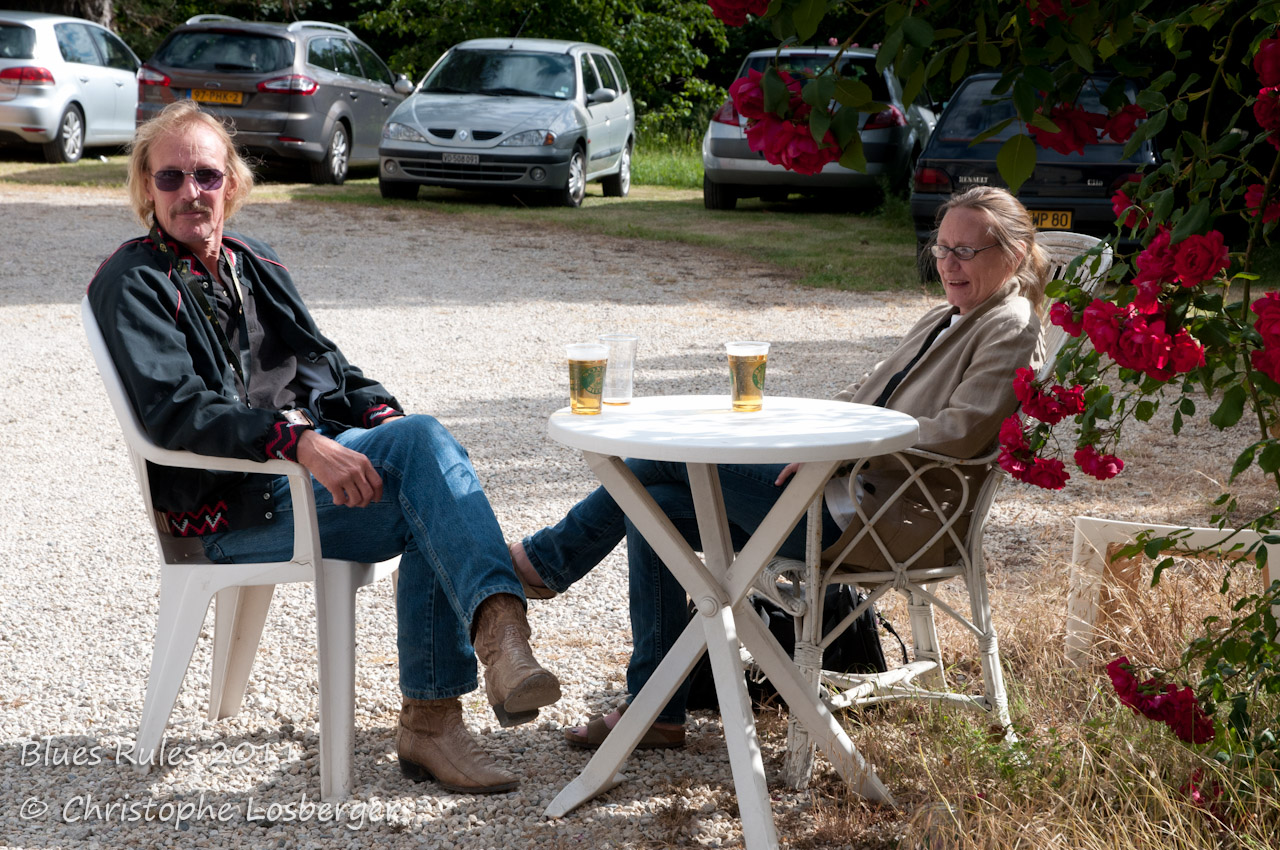 Cette année tu reviens avec 4 autres bluesmen (Alvin Youngblood Hart, Joe Ayers, Bill Abel et Eric Deaton), vous vous sentez comme des mercenaires du Blues, des promoteurs de cette musique ou des gardiens de la tradition ?
Tous ces gars sont avant tout de bons amis avec qui j'ai vraiment du plaisir à jouer. J'ai vraiment hâte de partager la scène avec eux, c'est sûr, je pense que ça va être énorme car on est à la fois capable chacun de proposer sa propre musique et également de jouer les uns avec les autres.
Quel est le premier Blues que tu as appris ?
Les trucs que Joe Callicott m'a montré, Laughing to Keep from Crying, Going  Back to the Junction et ce genre de morceaux.
… et le dernier que tu as écrit ?
Je n'ai rien écrit dernièrement qui soit produit, mes dernières compositions sont sur Back to Mississippi.
english version:
I got the chance to meet Kenny brown several times in my life, but the very first had been the spark who started my Blues addiction!
We first met in Paris (France) in February 2006, at the Nuits de l'Alligator, and we had a chat after your show and you told me "If you love Blues, you have to visit Mississippi!".
Back home, I bought my plane tickets for the following summer. So in July 2006 we met again in Clarksdale… and then in 2008 and 2010 at his Picnic…
We truly consider you as a great inspiration for the Blues Rules, and also as one of the best introducer to the Blues world.
Thank you Kenny for answering those few questions.
How/when did you arrived in the North Mississippi region?
My parents are from here, I was born in Selma, Alabama while my dad was in the military, I was most likely conceived in MS and returned there when I was 6 months old.
Did you grew up in an artistic family? How did you meet the Blues?
My Mom played piano and my dad sang some in gospel quartets and I had an uncle who played guitar some.
I first heard blues when I was about 6 from picnics across the road from our house, then on a radio station out of Nashville. Then when I was 10 Joe Callicott moved next door to me and started to teach me.
When did you decided to become a musician as a full time job?
I played music in public from the time I was 19, but  always worked a day job, just before my 40th birthday I decided to put more effort into music and everything came together so I could quit the day job.
How/why did you start the North Mississippi Hill Country Picnic?
I got the idea to have the picnic because I was traveling all over the world seeing how much people loved the hill country sound and no one was doing a festival that focused on that sound. I started talking to people about it for a while and had a few parties at my house and so many people showed up that I figured it would work. Then one day my wife,Sara came in and had everything laid out on a sheet of paper and told me, "If you want to do this thing this is what we have to do." So Sara is pretty much the organizer.
When/where will be the next one?
It is always the last weekend in June and we are holding it in Waterford, MS on highway 7 between Holly Springs and Oxford, MS
Is it a good job to travel? in your country and around the world? Are you still traveling a lot?
I love to travel but I have slowed down a little.
What is the main difference between the European and the American Blues fans?
The fans are great all over, but I think the European people seem to appreciate it a little more.
Your Picnic has been a model for the Blues Rules, do you think we can bring the MS atmosphere to Europe?
I think so, we can sure bring the sound and the feel.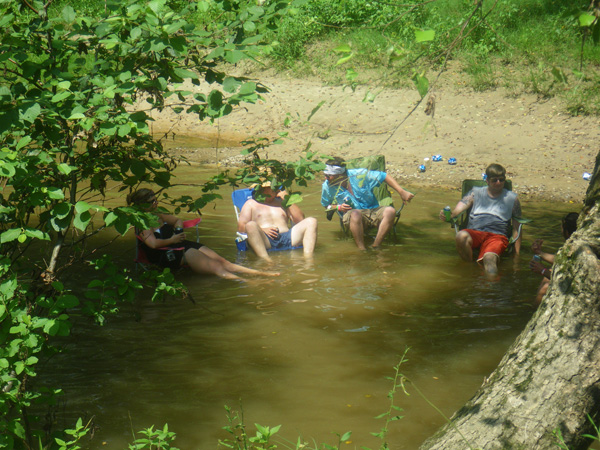 You've experienced the Blues Rules in 2011, any good memories or stories to tell?
We really enjoyed it and had a great time, the people were really nice and the food was great.
This year, you'll come over with 4 other bluesmen (Alvin Youngblood Hart, Joe Ayers, Bill Abel and Eric Deaton) are you feeling like blues mercenaries, blues promoters, tradition keepers?
All these guys are great friends of mine and I love to play with all of them. I'm looking forward to it this time for sure, I think it will be a blast because we all do our own thing as well as love to play with each other.
What was the first blues you learned?
The stuff Joe Callicott showed me, Laughing to Keep from Crying, Going  Back to the Junction and that stuff.
… and what is the last you wrote?
I haven't written anything lately that I have recorded, the last stuff I wrote is on my Back to Mississippi CD.