Juillet 2013, paraissait ce livre de photos et de souvenirs du voyage de George Mitchell sur les terres du Blues, à la rencontre des gens, de leur musique, de leurs vies…
A l'occasion de la sortie de son livre, George avait bien voulu répondre à quelques questions…
Who took all the pictures from your book? you? Cathy? some others?
I took the pictures. Cathy took the picture of Rosa Lee Hill and me.
What cameras and films where used?
It was a borrowed 35 mm camera, as you will read in the book. I cannot remember the brand. It had automatic exposure. The only focusing mechanism was to set your guess at the distance from the subject. I used Kodak Plus-x film.
Witch photo you didn't take and you regret today?
I wish I had taken more photos of the recording session of Fred McDowell and Johnny Woods, but we had to do the session fast and on the spot, with no second takes, and I was working the tape recorder.
Can you tell me a story about one of the picture?
I took the picture on page 12, of two men in a mule-drawn wagon before I had met Othar Turner and did not know the one on the right was Othar.
When was your last trip in MS?
My last trip to Mississippi was about six years ago.
When will be next?
I will be there on August 20 (2013), in Jackson, the capital, for the "hard opening" of my exhibition of 75 of the photographs at the Mississippi Museum of Art.
Are you still taking pictures of the people there?
No, I am not still taking pictures of the people there.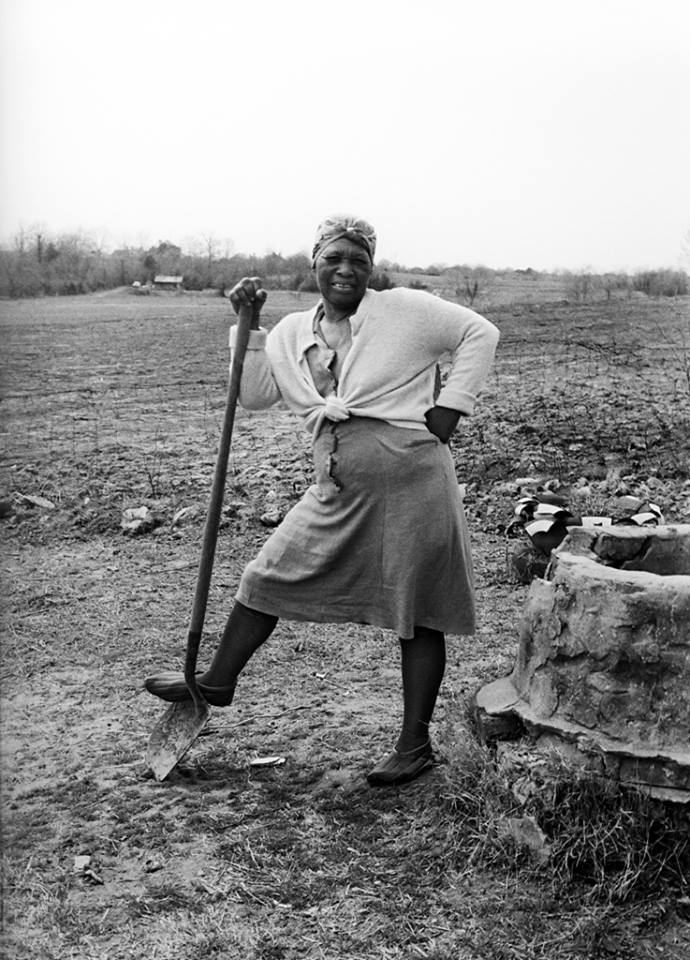 Ada Mae Anderson in her yard, 1967.
Archival pigment print, copyright © George Mitchell